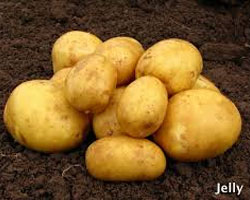 Best for: Grilling, Roasting, Mashing, Salads
Available: Late Summer and Early Fall
Appearance: marble to large size; round or oblong shape; light tan to golden skin; yellow to golden flesh.
Texture: slightly waxy, velvety, moist
Flavor: subtly sweet; rich; buttery; medium-sugar content
Grilling gives yellow potatoes a crispy skin that enhances the dense flesh, creating a slightly sweet caramelized flavor. The creamy texture and golden color of yellow potatoes mean you can use less or no butter for lighter, healthier dishes. The naturally smooth and buttery texture also lends itself well to lighter versions of baked, roasted or mashed potatoes. Simmer yellow potatoes until fully cooked, then drain, chill, and gently "smash" into flat disks. Brown these in oil or clarified butter and serve as a side or appetizer topped with sour cream and chives or other garnishes.